June 2008
Added stethoscope breathing sounds to Symptoms.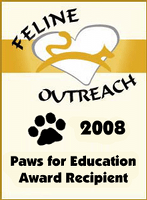 May 2008
The Feline Outreach Paws for Education Award is granted to FritztheBrave.com for outstanding education of feline caregivers.
Feline Outreach is a charitable organization formed to promote the routine and medical care of companion animals, particularly cats. Every donation to Feline Outreach supports financial and educational assistance.
Dec 2007
Site fully updated so that all data are current. Photographs of the new product version of AeroKat™ with FlowVu are added to the gallery.
Just discovered! Review the amazing videos that Cornell University College of Veterinary Medicine has made available. They cover caring for your diabetic cat; giving your cat a pill, capsule and liquid medications; trimming your cat's claws; taking your cat's temperature; and brushing your cat's teeth.
Jul 2006
Steve Dale of Pet World Radio interviewed Kathryn on Chicago's WGN Radio about Feline Asthma and this website. Listen to the high-quality audio or the low-quality (fast download) audio. This material is © 2006 Steve Dale's Pet World Radio. All Rights Reserved. Do not copy without written permission from Steve Dale!
March 2006
Added a valuable link (content since removed - Feb-2008) to breathing sounds that the VA-MD Regional College of Veterinary Medicine use to instruct. Added several other links of interest under Resources.
Feb 2006
Finished second in the "Non-fiction Publication" category for the Preditors & Editors 2005 Reader's Poll, sponsored by Critters, an online workshop/critique group for dedicated writers.
Nov 2005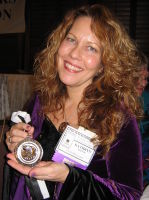 Kathryn and James attended the Cat Writer's Association's annual conference. For her work on this website, Kathryn was presented two awards:
The Cornell Feline Health Center Veterinary Issues Award was presented by James R. Richards, DVM, Director of the Cornell Feline Health Center, Cornell University. The entries were judged by Dr. Philip Bergman, and his comments included: ""This web site is VERY well done with lots of information that is thoroughly researched and well referenced, and most importantly it is personalized; it looks like it is from Fritz the Brave himself. Bravo!"
The second award was the CWA Muse Medallion award in the category of Online Article - Health and General Care, and presented for the Inhaled Medication section of this website.
May 2005
Kathryn and James, with the help of Trudell Medical International, who produced the professional voice-over, present video of Fritz in classic asthmatic cough symptoms. We hope this short clip will be helpful in understanding the disease.
February 2005
Kathryn was accepted as a member of the The Cat Writers' Association, Inc. (CWA) is an organization of professionals writing, publishing and broadcasting about cats.
Dr. Betty Marcucci wrote two educational articles in December issue of Veterinary Technician journal. The technician handout for clients, plus the articles, illustrates using inhaled medications and features Fritz the Brave.
A new Yahoo discussion group has been formed in German. A volunteer from that group has kindly offered to translate Fritzthebrave.com and will be available this year. Dankeschoen Ema.
American Animal Hospital Association is creating a poster for veterinarian use educating on feline asthma and featuring some photos from Fritz the Brave.
January 2005
Fritz the Brave and Kathryn attended at the AeroKat® booth with Daphne and Zoe of the FAIM Yahoo Group during The North American Veterinary Conference in Orlando, Florida. Dr. Philip Padrid, a keynote presenter, offered two Masters Classes for veterinarians: one on Feline Asthma and one on the use of Inhaled Medications. Fritz and Kathryn assisted for demonstration purposes. It was a wonderful trip and opportunity.
The AeroDawg® is now available. This is a step forward in the successful safer treatment of chronic bronchitis in dogs. For more information, contact the folks at AeroKat®.
April 3, 2004
Complete Site makeover. New content, look, inhaled medication protocol, and testimonials. Language translation by Babelfish, full text search, and unified image galleries. Kathryn is also completing a book on this topic - notice of publication date available via this website. Keep an eye for the announcement in What's New.