Fritz' Story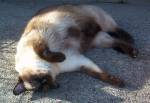 In February 2001, I was given up for adoption at an animal shelter. While looking for their missing cat, Raja, Kathryn saw me and took me to their home. I was in a full-blown asthma attack, but James and Kathryn mistook my panting for fear.
It took a while to get adjusted to my new surroundings and housemates. The adoption papers simply revealed that I was pure-bred Siamese, six years old. Shashee and Pye, at my new home, were welcoming even though I was crabby with them for months. I felt pretty awful with coughing spells and all the changes.
In March 2001, my coughing had progressed to open-mouth breathing, drooling of mucus and heaving sides. My first emergency trip to the vet proved fortunate in that the veterinarian was familiar with the signs of feline asthma. The x-rays confirmed it. I could use all the help I could get. My humans were very worried about me.
From March to May, I had four emergency trips to the hospital. One of these I spent overnight in an oxygen tent. In the meantime, James and Kathryn were doing all they could to gather information on feline asthma. I had been given steroids, bronchodilators, antibiotics, antihistamines and herbal medicines. I was getting tired of the shots and pills. The prednisone made me hungry and thirsty all the time, and I had gained three pounds, up to sixteen. I felt shy about the developing "love handles".
The last emergency trip in May 2001 was very serious. Doctors had me in front of an oxygen mask for two and a half hours. My vet had finally agreed to try the original inhaled medicine protocol developed by Dr. Padrid. While still on the treatment table, James brought in my new prescription for Albuterol and Flovent®. That first inhalation of Albuterol brought instant relief.
In late December 2001, I volunteered to pre-market test the first aerosol chamber designed especially for cats, the AeroKat®, along with Zoe from New York, and offered my feedback on its comfort and effectiveness. I gave it an enthusiastic two paws up and am happy it is now helping thousands of cats like me around the world.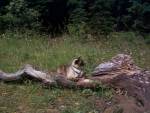 My life is comfortable and fun. The family moved to three acres in the Oregon countryside. My favorite spots are behind the warm woodstove or high above the cupboards on the cashmere sweater. And the mouse hunting is beyond my wildest dreams. Shashee and I continue to become friends and we share a lot of the same toys. Bijal and Soleil are new additions and I'm still not too sure about them but every day is Tuna Time and inhaled medications are painless. I ask James and Kathryn to take me camping, and you can see some photos of my adventures in the gallery.
I've appeared in several magazines, including: Cats and Kittens Magazine. "Asthma in Cats, Waiting to Inhale", Special Report, by Ian Hodder, pg.15, August 2003. Cat Watch Cornell University College of Veterinary Medicine, Vol. 5, No. 11, November 2001, a Danish veterinary publication, In Praktijk, February 2002 and a Polish veterinary journal Magazyn Weterynaryjny, Cough - Clinical Interpretation and Therapy by Rafal Niziolek, D.V.M, vol. 12, nr 80'2003. I was also in an Internet news feature on ThePetProject.com, March 2002. Veterinarians from around the world have contacted me. Education has been my main occupation second to napping in sunbeams.
Thanks for stopping by and I hope the information here can help the asthmatic cat in your life. Fritz